| | |
| --- | --- |
| Last edit: 05-03-17 Graham Wideman | Intelligence and Change in Enterprises |
Basic Enterprise Models
Article created: 99-03-12
This page presents a series of models useful in considering key aspects of enterprise operation, thinking and change.
Typical Enterprise
Here are the basic features in a typical Enterprise, showing its primary features and relationships.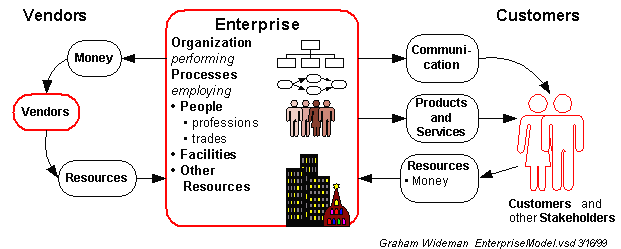 Enterprise Experiences External Change
Typical Enterprise experiences change from a number of external sources. In addition, change may be motivated by the desire to take better advantage of existing (ie: not-necessarily-changing) external conditions.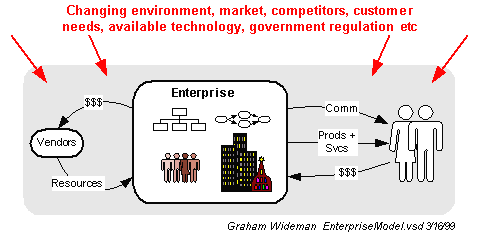 Enterprise Deals With Change
The following model sketches the activities of an organization in a milieu of change.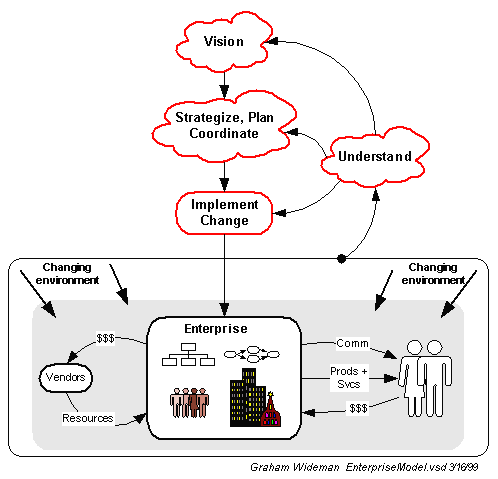 To deal with change, the enterprise has to:
Think

Understand the enterprise's own state and trends, and those of customers and suppliers
Understand the state and trends of relevant parts of the environment, such as competitors.
Plan reactive or proactive changes

Do

Implement Changes: Implementing change usually entails a bubble of complexity and activity that is generally "packaged" into the form of a project.
Each of these two area are pursued further on related pages.
Go to: