| | |
| --- | --- |
| Last edit: 05-08-30 Graham Wideman | Tools |
GW Raw MRI View
Article created: 2003-06-22
(Formerly GWORC: GW Orientation Reality Check)
Overview
GWRawMRIView is a viewer for MRI files that is particularly suited to showing how the raw data is organized without trying to be too helpful. It is guaranteed not to understand any particular format or headers.
Update 2004-10-20
I've been using this tool regularly and have added a few features along the way, and have only now got around to posting a new version. See below for details.
Why?
This tool is especially useful if you are trying to determine how your raw MRI data is ordered, independent of what the header might say, and without confusion that comes from a viewer attempting to show a desirable orientation. GWRawMRIView shows several images that are clearly marked as to how the images relate to data order in the data file.
These kinds of issues arise when converting between different file formats, and when using Analyze-format data or the newer NIFTI format, the BRIK data files of AFNI, raw MRI scanner files, and also 2-D slice images of various kinds.
System Requirements
Runs on Microsoft Windows
Works better with >= 1280 x 1024 display, but that's not required.
Screenshot
(This is of version 0.1.0.0 -- a few more features have been added, details below.)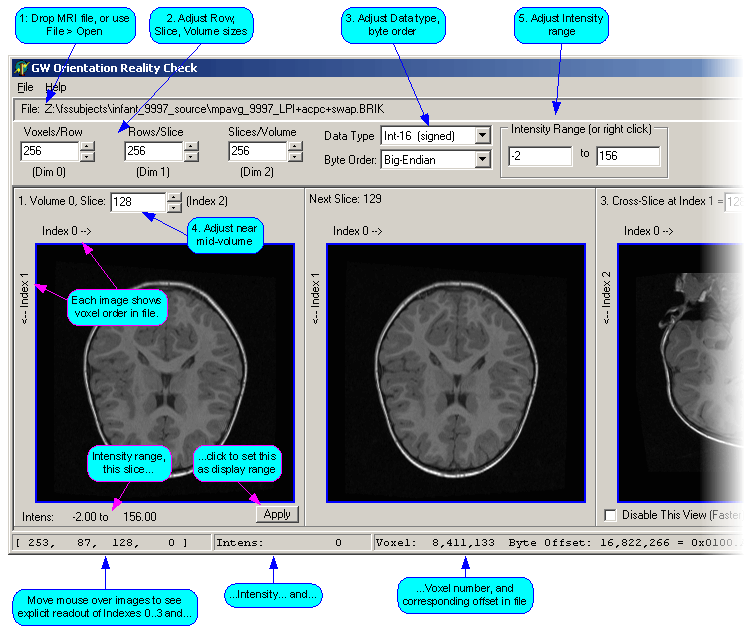 Features Not Appearing in Above Screenshot
Over/Under checkbox. This cause the display to color voxels that are above (red) or below (green) the selected intensity range.
Skip Header Setting: A text box where you enter a number of initial bytes to skip, typically to skip over a header.
File > Save Image 1: This feature allows you to save the image in the first panel as a BMP file.
Installation
Use link below to download zip file.
Unzip and place in some convenient directory. No further installation required.
Optionally drag to Start menu to create menu item, or Ctrl-Shift-Drag to desktop to create shortcut.
Use
To run, double click in Windows Explorer.
Drag an MRI file or 2D raw image file from Windows Explorer onto File-path area.
While observing resulting images, adjust the following in any order:

Voxels/Row
Rows/Slice
Slices/Volume
Data type and byte-order
Volume 0 slice number
Intensity range

Readings: In addition to the images themselves, you can also view various readings in the status bar area
Hints
You will probably want to adjust the Volume 0 slice number (leftmost image) to somewhere near mid-volume, as the outer slices are usually all-black. Same with the Index 1 setting for the Cross-slice image.

Indexes 0, 1, 2, 3: Index 0 is the fastest varying index, then Index 1 and so on. These correspond to position-in-row, row-in-slice, slice-in-volume, and volume-in-file. (You could also think of them as X, Y, Z, Vol, so long as you don't attribute any special spatial meaning to these letters!)

There's a label showing direction of increasing index for each one, so for example Index 0 increases from left to right in Images 1 and 2.

As you mentally correlate the images with how the bytes are ordered in the file, you can drag the mouse over an image to see how Voxel number and Byte Offset vary.
Download
| | | | | |
| --- | --- | --- | --- | --- |
| Item | Version | Date | Link | Description |
| GW Raw MRI View | 0.3.0.0 | 2004-10-20 | GWRawMRIView_0300.zip | Adds Header Skip and Save Image features |
| GWORC | 0.1.1.0 | 2003-11-11 | GWORC0110.zip | Adds ability to flag in color voxels whose intensity is outside set intensity range |
| GWORC | 0.1.0.0 | 2003-06-22 | GWORC0100.zip | |
| | | | | |
---
Go to: