| | |
| --- | --- |
| Last edit: 05-08-29 Graham Wideman | Tools |
GWAnalyzeHeader
Article created: 2003-06-22
Overview
GWAnalyzeHeader is a simple tool which reads an Analyze-format .hdr file and displays the values and meanings of its fields.
Why Use This One...
... when a variety of other tools provide similar information?
Runs on MS Windows
Involves essentially zero installation hassle
Receives hdr files via drag-and-drop
Lists complete set of hdr fields, including SPM-specific ones
Provides copy-and-paste of text version of info suitable for Excel
Detects Little-Endian vs Big-Endian
Screenshot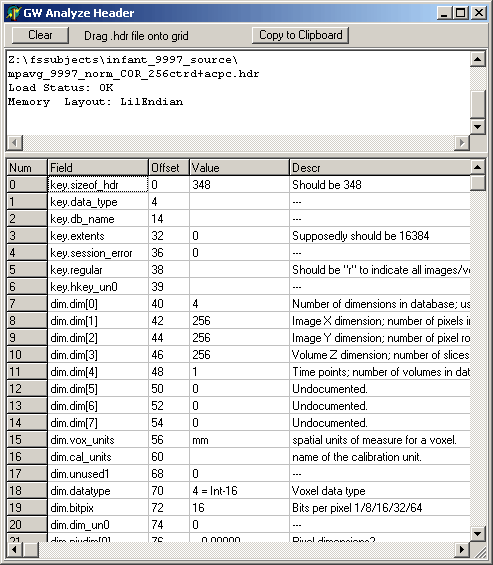 Installation
Use link below to download zip file.
Unzip and place in some convenient directory. No further installation required.
Optionally drag to Start menu to create menu item, or Ctrl-Shift-Drag to desktop to create shortcut.
Use
To run, double click in Explorer.
Drag a .hdr file from Explorer onto grid. That's it.
You can use the Copy button to copy info to clipboard in text format. You can paste this to Excel to make a nice columnar layout that's good for printing.
You can launch the program several times if you want multiple copies with which to compare several hdr files.
Download
Item
Version
Date
Link
Notes
GWAnalyzeHeader
0.1.1.20
2003-06-25
GWAnalyzeHeader0120.zip
Revisions:
funused1..3: Corrected numbering and SPM scale
Added Type column
Corrected hist.originator array size
GWAnalyzeHeader
0.1.1.10
2003-06-22
(removed)
Original release
---
Go to: