| | |
| --- | --- |
| Last edit: 06-06-02 Graham Wideman | FreeSurfer |
FreeSurfer Process Diagram
Article created: 2003-03-10
2006-06-01: Note that this page pertains to the "Freesurfer 2001 stable" version. The subsequent 2006 stable version has added a number of advancements, including:
-- improved level of success of the automated steps, reducing manual interventions
-- subcortical region segmentation as a separate branch
-- labeling of cortical surface regions at the end
... however the main surface-finding strategy sketched here is the same.
Overview
A diagrammatic overview of the main FreeSurfer process, proceeding generally from top to bottom.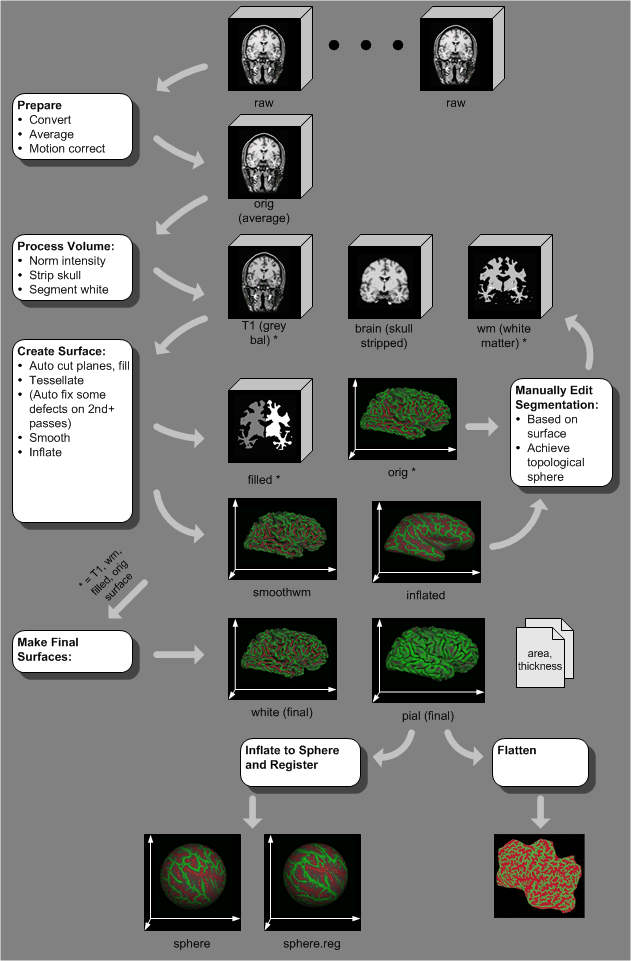 Key:
Cube shapes: volume of voxels (or equivalently a stack of 2-D images).
Shapes with axis arrows: Surface files.
Notes:
Bert Images: All the images above are real images from the sample Bert data from the FreeSurfer website. To see the samples in more detail, visit this page. (Exception: the flattened surface -- this is copied from one of the Dale, Fischl, Sereno papers).

Input Data and Resampling: FreeSurfer currently accepts input data in a number of formats. The initial steps align, motion-correct, average the data. Along the way the data is resampled to 256^3 1 mm voxels

Make Final Surfaces uses a number of files from previous steps. These are not shown with explicit arrows, but instead with asterisks.

Inflate to Sphere, Register and Flatten are all optional steps
---
Go to:

or back to Understanding FreeSurfer