As part of the March '79 APL article, I interviewed Bill Gates by mail. Amongst the things he wrote: "APL will see an incredible increase in popularity because it will be exposed to so many people. To date, it has been an expensive language to use and is almost never introduced to first time computer users. APL's strengths assure that a significant percentage of personal computer users will adopt it as "the language". However, it is not the ideal first-time language and has some limitations of its own. BASIC will continue to dominate in this role, although specialized languages will be supported by personal manufacturers. Microsoft will introduce APL on the TRS-80, Exidy Sorcerer, Interact-One, Nascom and NEC TK-80 in 1979".

Microsoft seemed to be seriously pursuing APL: "Microsoft APL has all the features of IBM APL/SV APL except that the I/O and shared variables are handled differently [... some more technical details...]"

To put this in perspective: "Microsoft now employs 14 full-time technical people, and has moved to new and bigger offices in Seattle, Washington, as well as purchasing a DEC 2020 for in-house development."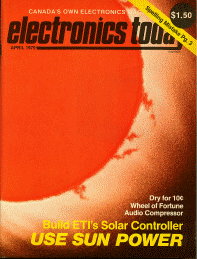 The April-Fools cover slash says "Spelling Mistake, Pg 3", designed to get people to read the table of contents. Cute eh? The solar heating controller was designed by me, and kitted by a small company in Toronto.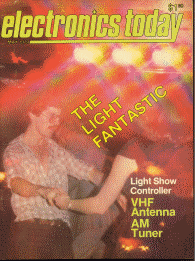 Steve Braidwood got to shoot the cover at the Airport Hilton disco.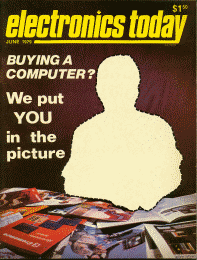 By this time we were knee deep in computers: Rockwell AIM65, Apple II, Compucolor II. Heath H8, Interact, Commodore PET (now sans chicklets), Processor Technology SOL, TRS-80, and the 1802-based VIP.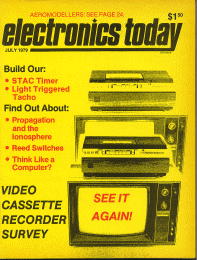 Someone talked Steve Rimmer into doing a VCR survey.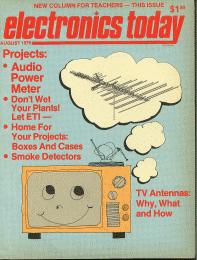 We were rolling on the floor when someone came up with the "Don't wet your plants!" line. There were a lot of late nights.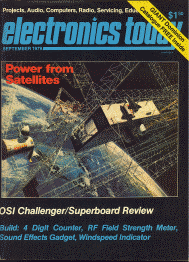 Our all-time fatest issue, thanks to a hefty Dominion Electronics catalog. The Challenger review was cool too, except that it was almost impossible to buy one. People were driving down to the OSI plant and buying about-to-be-shipped units off the shipping dock.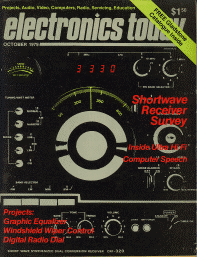 An excuse to use silver ink. Looks rather nice in reality.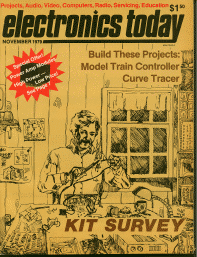 One of the features: "Using UARTS: Our father, UART in heaven..."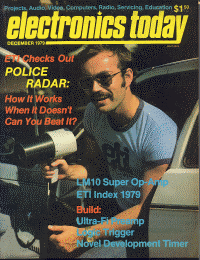 My last issue!
That's our stylish assistant editor John Van Lierde, stepping out with a borrowed radar gun. Can you beat it? We built a vibrating array of foil-covered speakers to show that you can. Doesn't do much for the aerodynamics though.