| | |
| --- | --- |
| Last edit: 05-03-17 Graham Wideman | Models |
"Flow of Services" Model
Article created: 98-07-17
I drew the model below to illustrate, at a coarse level of detail, the relationships between the four SDSU Divisions.
This model focuses on the functions of the divisions and how services and resources flow through the organization, ultimately to our customers (on this diagram, generally "downwards" -- in a previous version I had the diagram flipped vertically so that customers were at the top, but it was too distressing to have the flow upwards).
This arrangement is much better than the org chart in conveying the essential nature of the roles played by each division.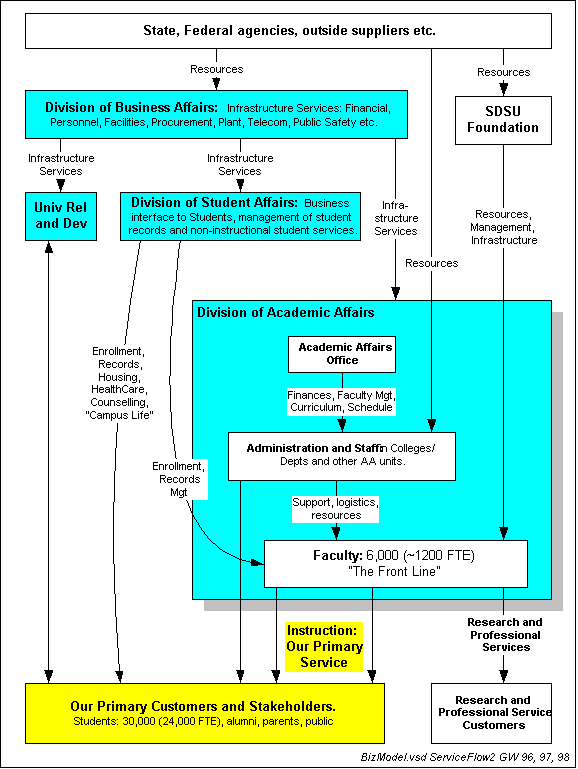 Information Systems and Communications Implications
There are several important information systems and communications implications:
Each flow of service is accompanied by communications ("transactions") between the "service requestor" and the "service provider". There may be an initiating request, followed by one or more communications in either direction regarding the delivery and acknowledegment of the service. Much of the job of operational information systems is to communicate and keep track of all this.

In many cases, the service provider has put in place an operational information system for their own use, while in most cases the service requestor (ie: customer) does not have such a system -- perhaps keeping track of requested services on paper or spreadsheet -- eventually accumulating many such informal tracking systems in conjunction with each service. This suggests that across the organization, collectively there is a significant need for service requestors to be able to interact with service providers' information systems.

For some "composite tasks", such as "arriving as a new student" or "moving office", service requestors must often request numerous services individually. Each service provider has different procedures for requesting a service. This results in significant inefficiency and confusion which could be alleviated with a more global and holistic-customer-task approach to the design of how services are presented (and hence would call for work-flow analysis and systems development).
---
Go to:

[Back to Models]