| | |
| --- | --- |
| Last edit: 05-03-17 Graham Wideman | Models |
"Data Cube" as Framework for Understanding Decision Support
Article created: 98-07-17
The models below are ones that I drew at SDSU to communicate the role of information in supporting the decision process.
Given the basic business model: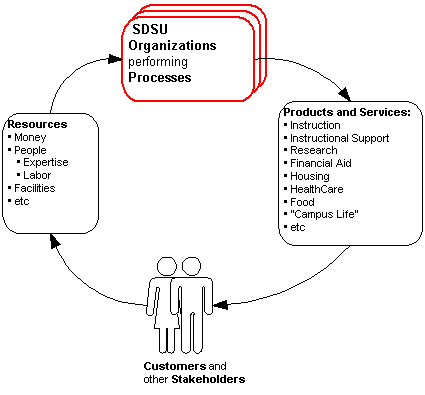 . . . we can use this as a basis for understanding our "enterprise data" -- the data that we might bring together, aggregate and analyze for Decision Support purposes. At a coarse level, this can be conceptualized as a "data cube":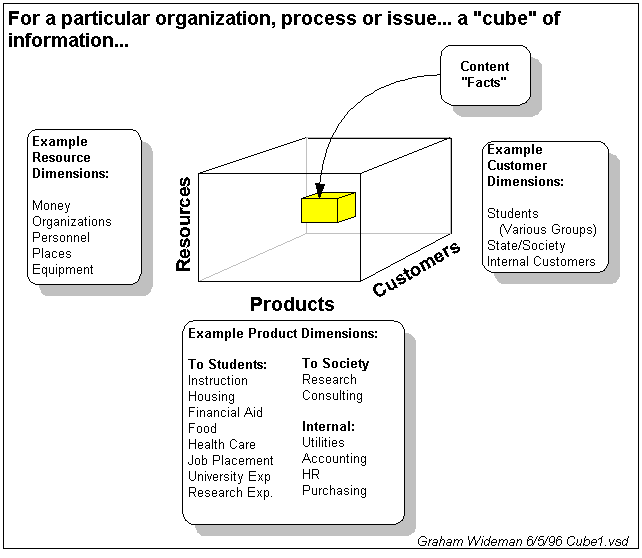 Two Types of Data
This model leads us to distinguish between two types of data:
"Dimensions"
Content ("facts")
Basis for Decision Support
Once this kind of environment is in place, it becomes eminently practical to ask Decision Support questions such as (just a few examples of interest at SDSU):
Student/faculty ratio
Cost per credit-hour
Facility utilization
"Portraits" of departments or programs, involving collections of measures thought to reflect how the dept/program/college is doing.
How to Establish
Much of the work to be done in harnessing (or "mining") existing Operational information systems consists of:
Find or establish an authoritative source (department and system) for each important dimension.
Understand how to bring content data together from diverse systems and (re)organize it according to uniform authoritative dimensions. (Note: the diverse systems don't have to change, though new systems may want to take advantage of authoritative sources for key dimensions.)
Also Supports Coordination of Systems and Services
An understanding of the "Dimensions" also enables better communication between systems which in turn allows the systems to support better-integrated work-processes and more seamless communication with customers.
---
Go to:

[Back to Models]